Why More Sales Staff May Not Be the Answer to Revenue Woes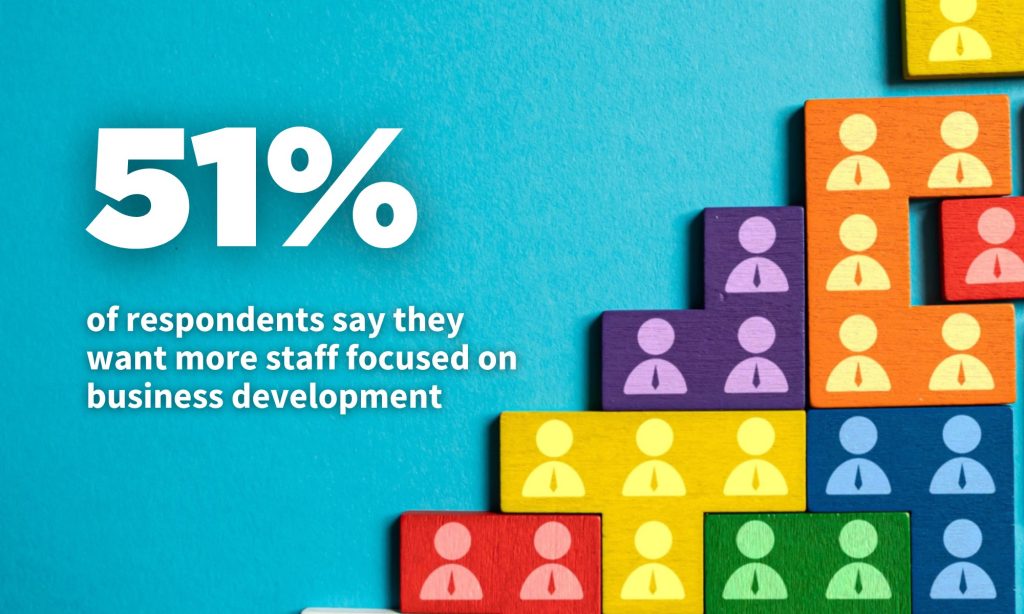 The multi-faceted nature of business development means generating more revenue cannot be achieved through a single solution. The right leadership, resources, training, and collaboration all contribute to the success of a sales team – but in a recent PAR survey, 51% of respondents said their business development practices would improve if they had more staff focused on the task.
As staffing challenges continue to disrupt the global workforce, adding more staff may not be an easy solution - or the right one.
Carrie Hartin is the President of Association Solutions for MCI USA and says hiring more sales staff could be necessary if a thorough market and product evaluation doesn't reveal any problems, but it isn't the de facto fix for revenue woes.
"There are places where it really just does come down to not having enough sales time and talent to generate revenue," Hartin says. "But often people will jump to 'I need more staff to develop more revenue' when sometimes you just need a different staff, a different mix of staff, or a different mix of resources. It is important to look at the full ecosystem of what is needed in order to bring a sales effort to life and really have it be successful."
Below are four areas to examine within your association before posting that next business development job opening.
Leadership. Sales teams of all sizes will struggle without leaders who identify, understand and track data that will help their teams reach budget expectations. "In order to forecast effectively, you've got to be close to the data and you can't be divorced from it," Hartin says.
TIP: Ensure that sales data is transparent, accessible and reviewed on a regular basis. Incorporating a brief data review into your team meetings will foster a collaborative sales environment and emphasize the value of data analysis. To get started, spotlight renewal rates or upsell data in at least one meeting per month.
Resources. Before adding more sales staff, take inventory of the resources available to your sales team beyond the CRM. Sales intelligence tools, automation software and a cross-departmental approach can help maximize sales time and improve performance.
"Sales is an ecosystem," Hartin says. "These days sales and marketing fit together hand in glove. There's data that drives their actions and there is so much you can do to help a salesperson really maximize the time they spend outward facing with customers and prospects."
Sales Culture. New revenue channels continue to emerge for associations. As unique opportunities arise, it may be tempting to increase budgets before developing a solid sales plan. This can lead to an overwhelmed and demoralized sales staff. Instead, consider establishing a 'What If?' culture within your business development team. It's a good way to ensure every big ask is met with a level of curiosity.
"For people who lead sales teams and organizations, it's important to help your salesperson get comfortable. They often hear a big ask and they shut down quickly and don't want to answer the critical questions of, 'What would it take for that to be true?  or How could that be true?'," Hartin says.
TIP: Empower your sales staff to think big by periodically asking them to define game changers that would help them build relationships and new revenue partnerships. While you may not be able to satisfy every item on your team's 'wish list,' keeping the lines of communication open can lead to critical changes in how your team operates in the market.
Talent. After examining the inner workings of your business development team's leadership, resources and culture, it's time to evaluate your talent. Hartin says she searches for talent who has a flexible mindset and knows when to both take direction and show initiative. Sales professionals who take a collaborative, creative and curious approach to their work often keep in mind what is good for the entire association enterprise.
"I think those individuals can sell products for you today and then can sell different products for you tomorrow."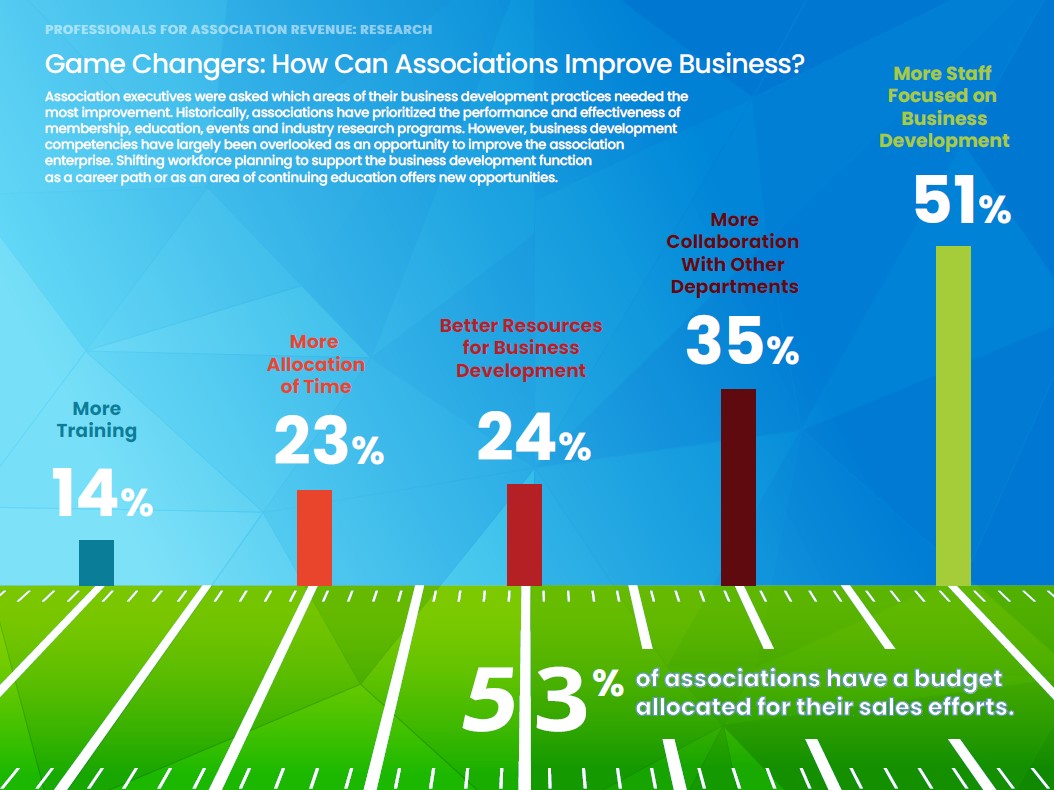 Download the PAR Association Business Development Landscape Report
How association teams are growing revenue
Anticipated gaps in business development practices
Performance over membership, events and non-dues programs
Projected growth and anticipated obstacles to revenue