How is your team adapting digital revenue resources in 2021?
Take the 2021 Association Business Development Survey.
PAR 2021 Association Business Development Survey
Please take 8 minutes to help PAR explore the present and future of association revenue

Achieving revenue objectives is a primary driver for associations to deliver member value and share their mission.  As business development continues to evolve at a rapid pace, association teams are finding gaps in their approach to growing or even maintaining revenue health.  Market conditions, changing buyer behavior, and competition are all contributing factors. 
Opportunity exists in the fabric of the association workforce.  Professionals for Association Revenue (PAR) is a group of experienced business development executives responsible for producing revenue for their organizations. PAR is being developed to help association business development teams thrive while sharing ideas that grow their bottom line.
If you are involved in producing or managing revenue for your association, please help us understand your challenges and opportunities by taking the PAR Landscape Survey.  An executive summary of results will be shared with everyone who participates.
Industry Research
Seize Market Opportunities. PAR members enjoy many benefits but perhaps one of the most useful is exclusive access to comprehensive research.
2021 PAR Survey
Association Business Development Survey
The changing landscape of business development correlates with the overall health of association revenue in 2021 and beyond. This report will share results from the PAR 2021 Association Business Development Survey.
Coming Summer 2021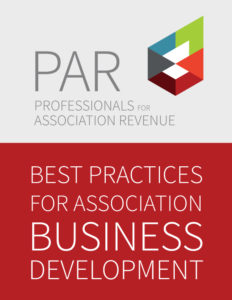 Best Practices For Association Business Development
Mission statements often highlight association value propositions.  This paper will explore best practices to help prepare association sales teams for 2022.
Coming late Fall 2021