Infectious Diseases Society of America (IDSA) Announced as 2022 Recipient of Pierre PARtnership Award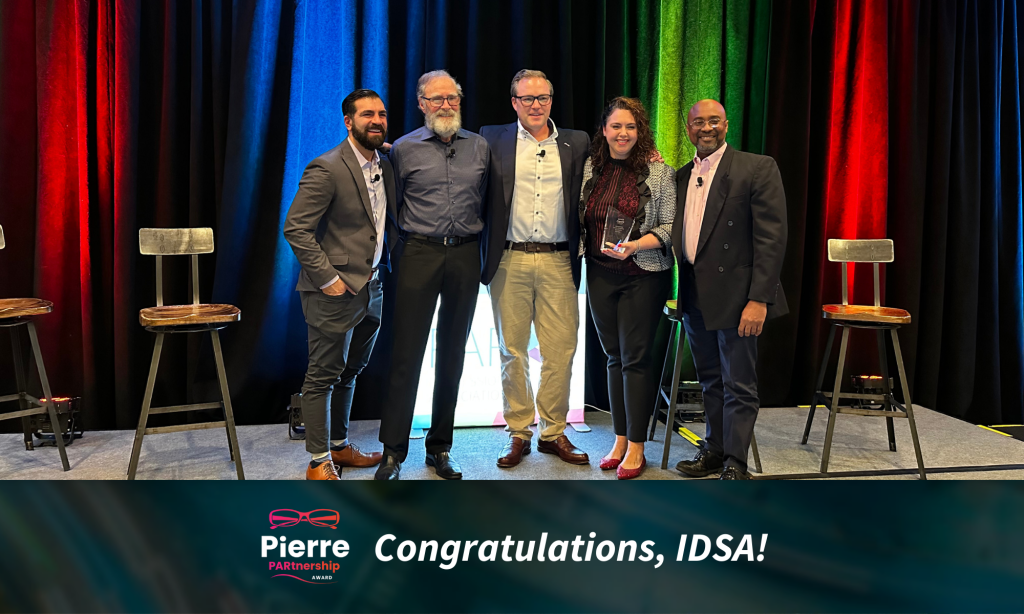 Infectious Diseases Society of America (IDSA) Announced as 2022 Recipient of Pierre PARtnership Award
Towson, MD, December 19, 2022 – The Professionals for Association Revenue (PAR) is pleased to announce Infectious Diseases Society of America (IDSA) as the 2022 Recipient of the Pierre PARtnership Award. This award recognizes association programs, events, and staff experiences that positively align mission and business.
Finalist were highlighted in a panel session during the PAR RevUP Summit, December 7-8 and included Heart Rhythm Society (HRS), Infectious Diseases Society of America (IDSA) and Society for Clinical Research Sites (SCRS).
Sean Soth, Leadership Advisory Board Chair at PAR shares, "Association business is critical to extending mission and member value. IDSA met their market and member education needs collectively with great results. PAR is thrilled to present the first Pierre PARtnership Award to IDSA."
IDSA's Pierre PARtnership Award nomination shared how multiple departments worked together to adapt industry partner feedback, creating educational inventory resources. The program improved revenue, while offering members and attendees access to more than double the number of industry-sponsored educational opportunities. The resulting output improved member value and addressed evolving market options for the future defense against infectious diseases.
Associate Director of IDS, Dana Johnston added, "Our industry partner voice has value. Their feedback was important to building new opportunities that balanced their experience with industry education, provided member resources and ultimately, association revenue."
Website Links:  www.RevUPsummit.org and www.myPAR.org
###
About PAR:
PAR is a professional member organization working to help association teams grow revenue and support the business development workforce. Community is more critical than ever, and PAR's goal is to help association teams approach their work now with new resources and support from peers and subject matter experts. Visit myPAR.org to learn more about Professionals for Association Revenue.
About the RevUP Summit:
The PAR RevUP Summit brings together association executives responsible for revenue generation. Two full days of programming includes networking, exhibit hall, keynote presenters and many breakout sessions from experienced association revenue thought leaders. Visit www.RevUPsummit.org.