Press Release: PAR Appoints Jen Smith as New Executive Program Director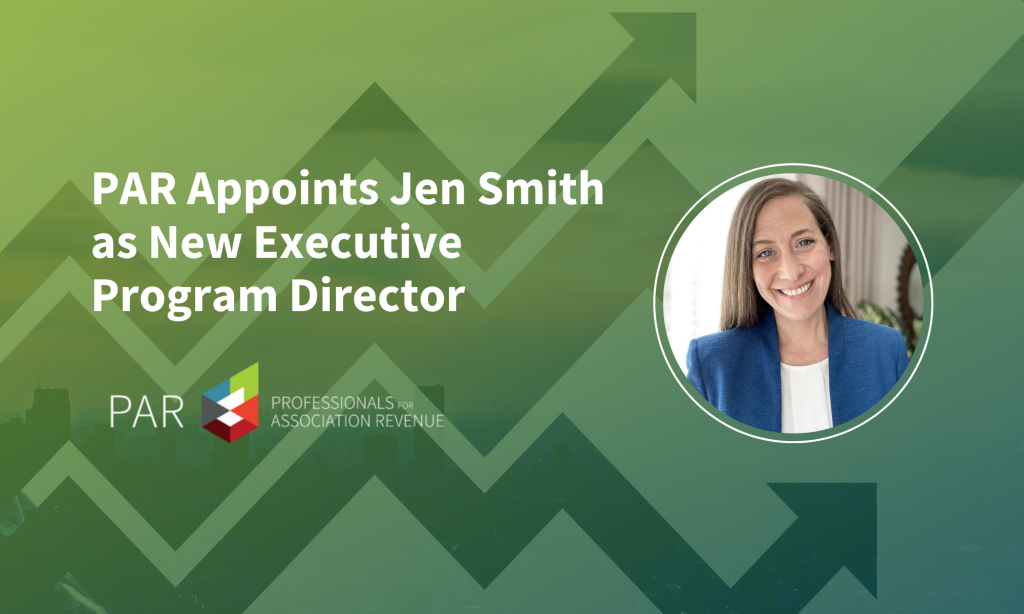 CONTACT INFORMATION
Brittany McCarron, Director of Marketing
Professionals for Association Revenue (PAR)
myPAR.org
Professionals for Association Revenue (PAR) Appoints Jen Smith as New Executive Program Director
Towson, MD, October 17, 2023 – Professionals for Association Revenue (PAR) is pleased to announce the appointment of Jen Smith as Executive Program Director. Jen brings a wealth of association experience and a proven track record in program management and application. With a deep background in association media, Jen provides a unique approach to the programs that PAR has ahead into 2024, highlighting strategy and association performance.
Jen's extensive experience in association leadership, revenue generation strategies and community building make her a valuable addition to PAR. Her strategic thinking and ability to implement successful programs have made a significant impact throughout her career.
As Executive Program Director, Jen will oversee PAR's program development and execution, focusing on strategies, resources and tools that help PAR members drive revenue growth for their organizations. She will work closely with the leadership team to further enhance PAR's offerings and deliver exceptional value to its community of professionals.
"The PAR team and community has a unique energy that associations can learn and grow from, and I'm thrilled to join them," Jen commented on her appointment. "PAR is a fast-growing community with a strong reputation for helping associations boost their revenue, and I'm excited to contribute to its continued success by leading innovative program initiatives."

"The work ahead for association business requires unique perspective that builds culture and centers around performance," added Sean Soth, SVP Business Partnerships, SCRS and PAR Leadership Advisory Board Chair, said. Jen joins a community and team of exceptional association business minds and shares an award winning background of quality and creativity from her work with associations like AM&P, ATD, ABA and more, we are excited about the work ahead together.
PAR will continue to provide valuable business development resources and expertise to associations looking to enhance their revenue streams and thrive in today's competitive landscape. Jen's appointment signifies PAR's commitment to achieving its mission of supporting association professionals in driving revenue health for their organizations.
For more information about Professionals for Association Revenue (PAR), visit mypar.org. Reach Jen directly at jen.smith@mypar.org.
About Professionals for Association Revenue (PAR): PAR is a professional membership community and a leading resource for association professionals seeking to optimize their revenue generation strategies. PAR offers a comprehensive array of resources, tools, and education to help associations enhance their financial sustainability and deliver greater value to their members.