Press Release: 2023 Pierre PARtnership Award Finalists Announced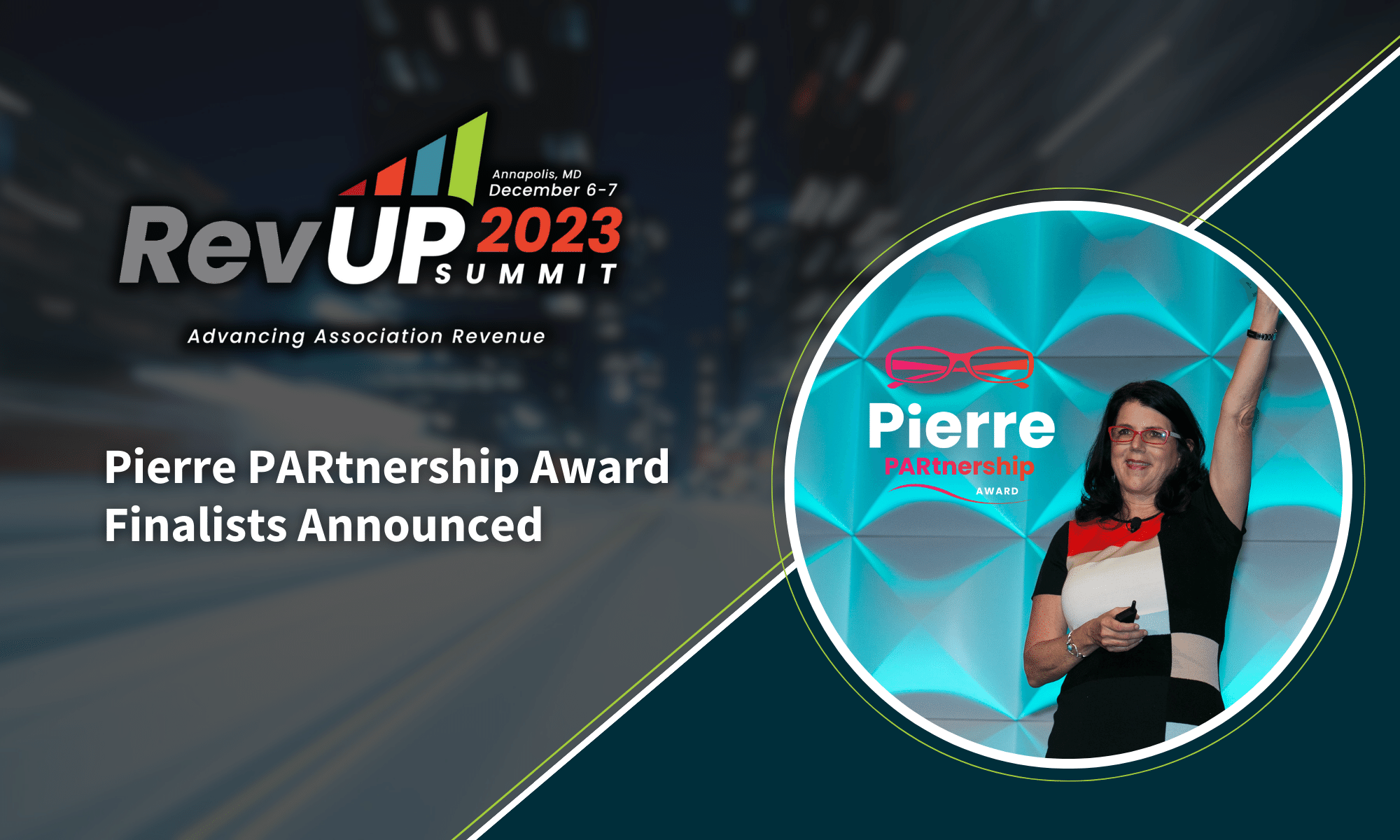 CONTACT INFORMATION
Brittany McCarron, Director of Marketing
Professionals for Association Revenue (PAR)
myPAR.org
Celebrating Innovation in Association Business: Pierre PARtnership Award Finalists Announced
Towson, MD, November 10, 2023 – The Professionals for Association Revenue (PAR) announces the 2023 finalists of the Pierre PARtnership Award, recognizing the power of associations to enact impactful change within an industry through advancements in association business.
The finalists will share their stories of success with the PAR community, and the award will be presented, during the RevUP Summit (December 6-7, 2023) in Annapolis, MD.
The 2023 Pierre PARtnership Award Finalists are:
Association of Clinical Research Professionals (ACRP): In 2023, ACRP revamped its Clinical Trials Day strategy to collaborate with corporate partners and celebrate the clinical research workforce. The "Together We Can" theme resonated at global events, on social media, in testimonial videos and selfie sign messages. ACRP experienced over a 476% increase in video views and a 200% increase in sponsorships.
"We identified numerous opportunities to deepen engagement with—and then elevate the voices of—our industry partners, members, and the global clinical research community, while connecting ACRP's mission and programming to the campaign theme," said Lisa Townsend, Marketing Director for ACRP. "The success of our efforts in 2023 resulted in a streamlined and restructured sponsor package and new partner commitments for 2024."
American Society for Transplantation and Cellular Therapy (ASTCT): ASTCT partnered with the GVHD (Graft vs Host Disease) Alliance as the only professional association in the Alliance, which is primarily patient centered. This allowed ASTCT to expand its brand recognition to the patients treated by its members and to the caregivers that support those patients, and allowed ASTCT to gain financial support for education and awareness programs among other initiatives.
"ASTCT's participation in the GVHD Alliance has created positive impact in many ways," said Jenn Kasowicz, Director, Marketing and Communications at ASTCT. "Not only has ASTCT been able to gain financial support for programs that drive greater awareness, education and research around GVHD for our members and their patients, but the initiative has also expanded ASTCT's brand recognition to other health providers and caregivers."
School Nutrition Association (SNA): To ensure the continued viability of the association and enhance its member experience, SNA recognized the need to shift its focus to digital. Expanding its digital portfolio became a priority that involved not only creating new digital products but also revamping existing ones to align them with the SNA brand. SNA is projecting a $50,000 increase in digital ad revenue through sponsored recipes with its strategic digital approach.
"We've received overwhelmingly positive feedback from our members and sponsors regarding our enhanced social media presence and digital portfolio," said Danielle Baron, Vice President, Marketing, Communications & Industry Relations of SNA. "The big shift happened with the pandemic, prompting us to quickly embrace the digital wave. We added a wide array of digital products and gave our very text-heavy e-newsletters a facelift."
The Pierre PARtnership award honors Christine Pierre's legacy of association mission and business alignment, during a career that included association board Presidency, volunteer, speaker, exhibitor and entrepreneur.
###
Date and Location: The Pierre PARtnership Award will be presented at the PAR RevUP Summit held on December 6-7, 2023 at the Graduate Hotel in Annapolis, Maryland.
Website Links: RevUPsummit.org and myPAR.org
Links to Finalist Websites: https://acrpnet.org/, https://www.astct.org/, https://schoolnutrition.org/
###
About Professionals for Association Revenue (PAR): PAR is a professional membership community and a leading resource for association professionals seeking to optimize their revenue generation strategies. PAR offers a comprehensive array of resources, tools, and education to help associations enhance their financial sustainability and deliver greater value to their members.
About the RevUP Summit: PAR's RevUP Summit brings together association executives responsible for revenue generation and strategy. Two days of programming will include networking, exhibit hall, keynote presenters and many breakout sessions from experienced association revenue thought leaders.