Executive Take: DEI for Organizational Impact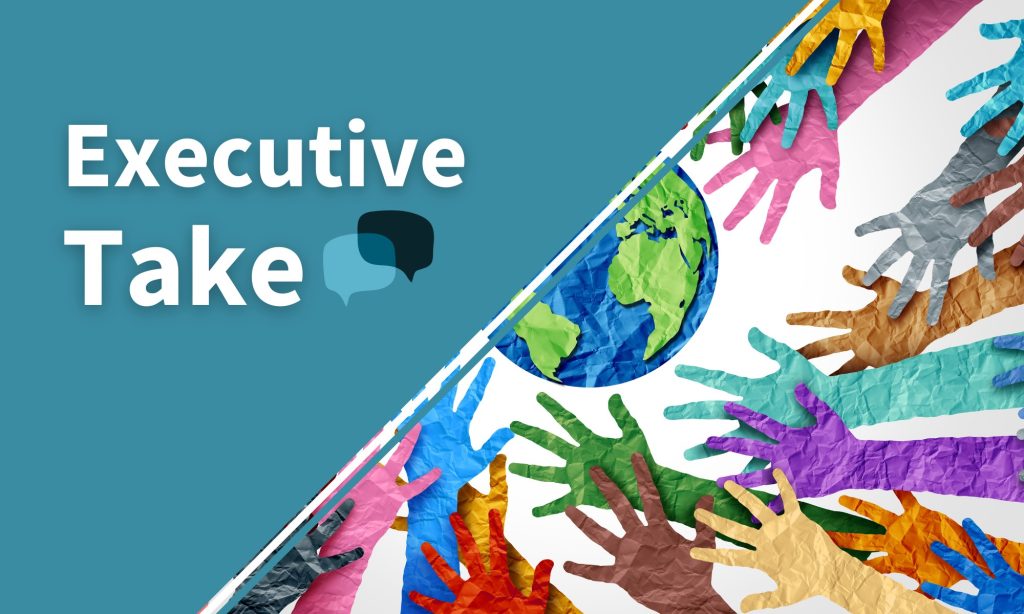 We begin this month's edition of PAR's 'Executive Take' by identifying a commonly held, yet often unspoken about, feeling: It can be challenging to discuss, develop and implement diversity, equity, and inclusion (DEI) strategies.
Am I saying or doing the right thing?
Will my contributions matter? 
Will this have an impact on our organization? 
There isn't a clear plug-and-play approach to how our associations should approach the work in this area. But there is a clear reality: we must try. Embracing DEI goes beyond the important ethical considerations for our employees, members and greater communities. It also directly impacts the sustainability, relevance and revenue health of our associations. We are thankful to this month's 'Executive Take' contributors who answered the question:
What strategies can associations use to ensure that their diversity, equity and inclusion initiatives go beyond mere slogans and instead have a substantial organizational impact?
"Associations need to ensure that diversity and inclusion strategies go beyond recruitment and also encompass retention. Information on the website is important, but associations need to continue offering programs and services to members and staff to cultivate the sense of belonging that we strive for in the association community. Some examples could include having a webinar series dedicated to diversity and inclusion for staff and for members, allowing members to share DEIAB strategies and examples from their own organizations, and generally ensuring that all members are represented in marketing materials or other advertisements. Additionally, in-person programming is crucial to building understanding and associations can take advantage of having many members together at annual meetings by providing opportunities for training or roundtable discussions to advance conversations and knowledge sharing around DEIAB topics."
Jeanette Gass, CAP, ACNP, CVEP, DES
International City/County Management Association (ICMA)| Senior Program Manager, Global Engagement
"There are a few ways associations can have real impact with their DEI initiatives:
DEI is not HR's responsibility. Rather, it must be a standard discussion item of the CEO's and leadership's agenda and Board of Directors meetings.
Offer unconscious bias awareness training to all staff and key volunteers to generate mindfulness and a genuine connection to inclusive values.
Set up non-exclusive ERGs (ex: LGBTQ+, ethnic groups, young professionals) where there's diversity within these groups to include DEI allies and champions.
Don't be afraid to start, make mistakes, or offend anyone not in support of DEI. Even small steps are much better than doing nothing!"
Sylvia Gonner, CAE
CultureWiz | Global Growth Strategist, Consultant and Speaker
"DEI efforts need to be supported by your workplace culture in order to create lasting change. In our research, we have identified several elements of workplace culture that can impact the long term success of DEI initiatives. For example, organizations that focus on what we call "developmental growth" - investing in training and development and showing employees that you care about their health and welfare - can incorporate DEI programs such as unconscious bias training that are more meaningful because they are tied to an individual's overall pathway of professional growth. Another example is organizations that focus on "collaborative groups" - as opposed to just collaborative individuals inside teams - where silo issues are unpacked and both vertical hierarchies and horizontal department structures are more fluid and accessible. In both examples, DEI efforts are then deeply connected to what makes both the individual employees and the whole organization successful. Have you thought about how culture might be hindering your efforts?"
Maddie Grant
PROPEL | Culture Designer, Author and Digital Strategist
"As a company that creates custom learning content, we regularly ask ourselves (and our clients) about DEI. We believe the learners we serve should be able to recognize themselves in the courses we build. It follows that learning should reflect the culture and values of the association and its members. So we work with our clients to decide how to handle things like diverse imagery, character names, pronoun usage, narrator voices, and case studies. We are also passionate about building courses that are accessible for people with disabilities. Your e-learning courses might be used for years before you change them. Ask yourself if your learning products accurately reflect who you are and who you want to be."
Amy Morrisey
Artisan E-Learning | President and Co-Owner